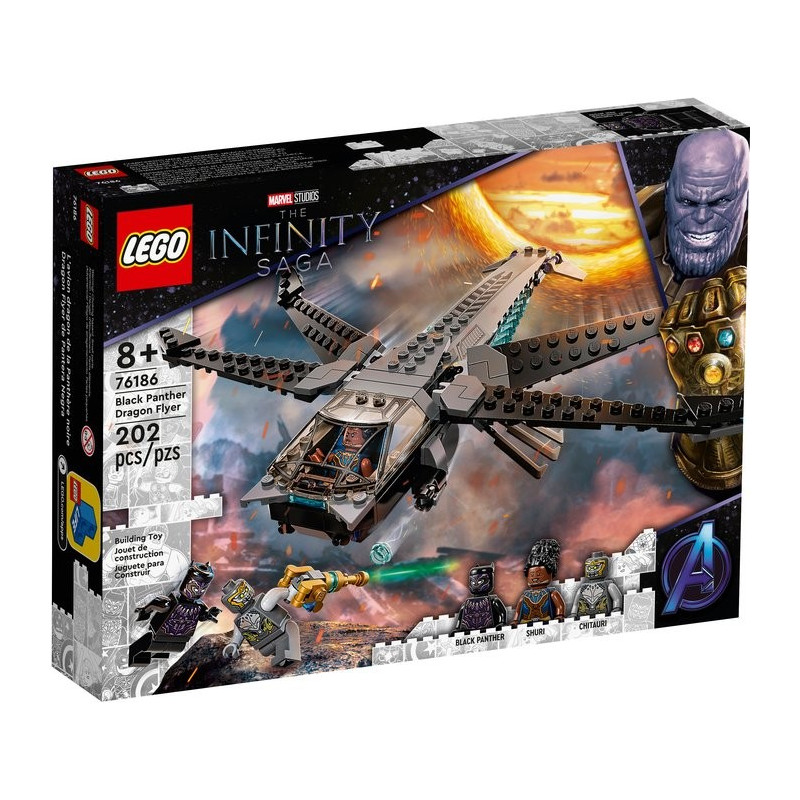  
Lego - Dragon Flyer de Black Panther Lego Súper Héroes - 76186
Security Policy and Secure Payment.
Shipping, returns and pick-up policy
Data protection policy
Los jóvenes superhéroes pueden recrear la acción de las batallas de altos vueltos de Avengers: Endgame de Marvel Studios con el juguete de construcción LEGO Marvel Dragon Flyer de Black Panther (76186), uno de los aviones más emblemáticos de las películas de Marvel y, sin duda, un gran set de construcción LEGO superhéroes.

Esta auténtica recreación del legendario avión de Black Panther es un destacado kit diseñado para brindar a los niños la mejor experiencia, tanto a la hora de jugar como de exhibirlo. El avión de juguete futurista de Wakanda incluye 4 alas ajustables, que se mueven hacia adelante, hacia atrás, arriba y abajo, 2 cañones y una cabina abatible en la que se puede sentar una mini figura a los mandos. Este set LEGO Vengadores viene con 3 mini figuras para inspirar el juego imaginativo: Black Panther, su hermana Shuri y un malvado guerrero Chitauri armado con un desintegrador de energía.

El juguete Dragon Flyer mide más de 4 centímetros de altura, 22 centímetros de longitud y 28 centímetros de ancho.

Contiene 202 piezas.