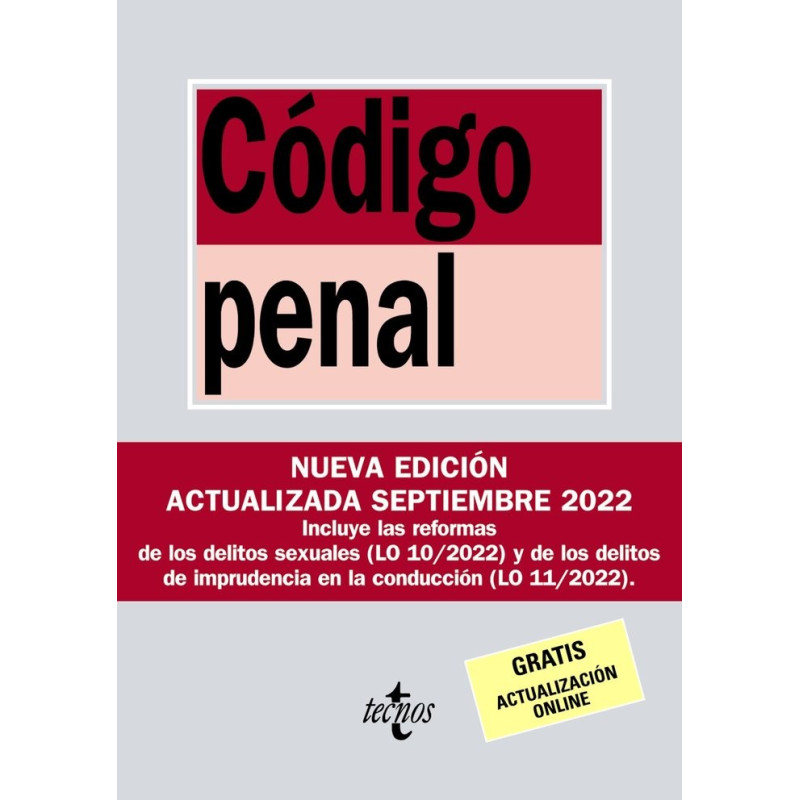  
Código Penal
Security Policy and Secure Payment.
Shipping, returns and pick-up policy
Data protection policy
Esta trigésima edición del Código Penal de 1995 se ofrece completamente actualizada a septiembre de 2022, incluyendo las reformas efectuadas por la Ley Orgánica 10/2022, de 6 de septiembre, de garantía integral de la libertad sexual y por la Ley Orgánica 11/2022, de 13 de septiembre, de modificación del Código Penal en materia de imprudencia en la conducción de vehículos a motor o ciclomotor. Las notas a pie de página contienen amplísimas referencias normativas que complementan la regulación penal y en algunos casos la complementan, así como jurisprudencia interpretativa y muchos de los textos derogados por reformas recientes. Así, el lector tiene a la vista, simultáneamente, los materiales que le permiten solventar problemas de aplicación temporal de los delitos. Durante la vigencia de la presente edición, la normativa reproducida en este volumen que vaya teniendo modificaciones en el contenido de su texto principal podrá consultarse a través de la página web www.tecnos.es.